In this video artistic director Paula McFetridge introduces Kabosh theatre company and talks about how the Creative Industries Innovation Fund helped to create an app for the dramatic walking tour Belfast Bred.
Care for the Future Interview: Andrew Thompson explores with Paula McFetridge, Artistic Director of Northern Ireland's Kabosh theatre company, the power of theatre to humanise the past and to hold up a different lens to what we think we know

.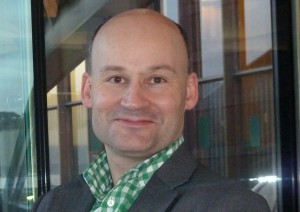 Andrew Thompson: You are the artistic director of a theatre company in Northern Ireland called Kabosh which is celebrating its 20th anniversary. Can you tell me more about Kabosh's aims, the type of work you commission, and where you perform?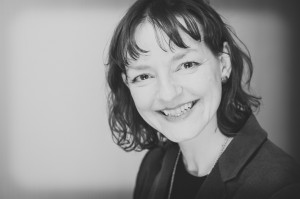 Paula McFetridge: Founded in 1994, Belfast-based Kabosh is a site-specific theatre company committed to challenging the notion of what theatre is, where it takes place and who it is for.
We have presented original plays in a range of non-theatre spaces from a moving black taxi to a synagogue, from a children's playground to a pop-up barn, from working city-centre shops to a local government building, from an abandoned workhouse to a spiegeltent, from the roof of the Titanic building to the basement cells in Crumlin Rd jail. We want citizens and visitors to look at their surroundings with fresh eyes.
The company believes that theatre can transform people's lives. Over recent years Kabosh has become the leading theatre company in the north of Ireland working in conflict resolution.
For all of our work we commission local playwrights. The project conception can differ – it may be to challenge a misconception or present an unheard voice, or highlight an issue of social importance. Then we find a location that would enhance our presentation of that narrative. This may be a contested or unusual space that we want to animate with a new narrative. The advantage of our work is that it appeals to those who don't tend to engage with theatre − they embrace the idea of an event, they are curious about a space they don't know or sometimes it's a space they feel they own and want to see what narrative we put in it.
We are committed to community engagement. On several occasions we have captured an oral archive as stimulus for the playwright. We often employ freelance practitioners to deliver a related workshop programme, and we engage with the location 'owners' over a period of time to give them ownership of the production. Project legacy is important to us. We have produced digital apps of 3 of our productions, we have published commissioned plays within the production programmes, and we maintain regular contact with new audiences through a range of communication tools.
What does your role as artistic director involve? What are the challenges of working in the Arts in a society which has only recently emerged from the Troubles and is still very much grappling with the complex and divisive legacies of the past?
I've been the Artistic Director at Kabosh for the last 8 years. I lead the small core team – a General Manager responsible for finance, administration and funding; and a Production Assistant who deals with community engagement, audience development and all communication (we are governed by a volunteer board of 7).
Last year we employed 199 individual practitioners – I selected each of them, aiming to build the ideal team for each project. I am in charge of the artistic programme, in consultation and with the support of my colleagues. We identify stories that we are interested in exploring, spaces that intrigue us, locations that we feel Kabosh is best placed to open access to. Then I approach a suitable playwright, commission them and nurture the script through various drafts until we walk into the rehearsal room. I direct each project. The number of performances differs depending on the space and the scale.
But this is only a part of my work – I also advise students, speak at conferences, collaborate on pan-European projects, explore funding opportunities, lead practical workshops and other things in between.
It is challenging working in an environment such as the north of Ireland but given the work I am interested in doing − and Kabosh's commitment to confronting head-on issues of social and political importance − it is also an incredible opportunity. I always say; if you can't imagine a provocative artistic response to history, space and community in Belfast where else could you do it? There are a number of stories still to be told, misconceptions that need to be grappled with, sensitive issues that the media and politicians can't or won't address, contested spaces that need re-imagining, narratives to share nationally and internationally. The list is endless and an artist has an active role to play in all of that.
I am acutely aware of the responsibility of the artist. There is a time to tell a story. A time to challenge. A time to simply give a voice.
You say the advantage of your work is that it appeals to those who don't tend to engage with theatre. Can you tell say more about who Kabosh has been able to reach out to and with what effect?
The audience demographic for every project is completely different. A lot of our cultural tourism work appeals to locals who want to see how we animate their space or people taking friends or family home for a trip to show off their city, as well as visiting tourists.
For example, when we staged 'Belfast by Moonlight' in St George's Church, over a six-month period we engaged with the caretakers, religious leaders, committee members, and their musical director. We ensured the entire company had a respect for the space and its users. We allowed the staff at St George's to sneak into final rehearsals, and they became ambassadors for the project over time. On the opening night their pride was palpable, they owned the production, and they openly encouraged their friends, congregation and users to attend. The majority of the audience were new to Kabosh, they will hopefully return.
Our community engagement project for 'Belfast by Moonlight' was on the Shankill Rd, a protestant working-class community. We worked with Shankill Area Social History Group and curated an oral archive of local stories. We then commissioned a playwright to create four 10 minute plays which explored the history of the area and staged the dramas as part of a new walking tour delivered by locals. Both the participants and the audience for the live performances 9th & 10th July 2013 had limited engagement with theatre, many also had limited knowledge of their area. The creation of an app will allow audiences who don't know this street to experience its history through fact and fiction from the safety of their homes. Giving someone safe access to another's story and/or space challenges pre-conceived ideas, promotes acceptance and breaks down barriers to engagement.
We get excited when someone from the community comes to see our work because to us they own the space, and through trust they step outside their comfort zone and enjoy the show, which leads them to come back to see more of our work in the future. An example of this was when a taxi driver who worked with us on 'Two Roads West' in west Belfast came to see 'This is What We Sang' in the synagogue in north Belfast, or the young person who came to our Halloween installation 'Ghosts of Drumglass' later coming to see an oratorio marking 400 years of the foundation of Belfast 'Belfast by Moonlight' in a city-centre Presbyterian Church.
The Care for the Future Theme has a strong interest in the question of the archive – in particular in what sense the archive can be seen as a resource for the present and a source of inspiration for the future, and not simply a record of the past. Can you share with us an example of how Kabosh has captured an oral archive as stimulus for a playwright?
In 2007 we were approached by a member of the Belfast Jewish community and asked if we could engage them in an arts project. They were an aging community very much in decline and wanted to find a way of archiving their story. At their height in Belfast in the early 1900's they numbered approximately 1,000 people. Now, in 2014, there are less than 45. They were instrumental in the development of our business sector. The first Lord Mayor of Belfast was Jewish and he was the only man to be Lord Mayor twice.
I was interested in looking at the idea of 'what would we miss when the Jewish community was gone'. I felt through exploring this idea we could look at a way of encouraging our society to embrace diversity rather than be threatened by it. The ceasefire in Northern Ireland resulted in an increasing number of people choosing to live in the north, as well as many returning home as a result of the peace agreement. I wanted to question what we as a society were offering them, what made our community an attractive one to live in? There was also an opportunity to look at the role of religion through the stories of a culture outside of the central two − Catholicism and Protestantism – which offered attractive possibilities to me.
I was brought to see their synagogue in north Belfast, which I didn't even know was there. It was incredible – at that moment I decided to stage a play there. I knew the curiosity around the space would ensure many traditional non-theatregoers would attend the performance and so engage with the narrative of an 'other'.
The Kabosh Creative Producer at the time, Jo Egan, interviewed 45 members of the Jewish community – 30 still living here and 15 who had left Northern Ireland since the start of the conflict in 1969. We transcribed the interviews and gave bound copies to each of the individuals as well as members of the Jewish community. The archive was then sent to Gavin Kostick, a respected Dublin-based playwright, who we then commissioned to write 'This Is What We Sang'.
Over a 12 month period we created the performance, which was set on Yom Kippur, the Day of Forgiveness. The Northern Irish Composer Neil Martin took traditional music from the Yom Kippur service and reimagined it for a sean nós singer (traditional unaccompanied Irish music). We staged it in the Belfast synagogue in 2009, then in 2010 we took it to the Synagogue for the Arts in Tribeca, NYC and won 'Best Production' at the 1st Irish Festival. The script is available on the Kabosh website.
Many things came up in the oral archive that shattered local myths – particularly the assumption that the decline in the Belfast community was a result of the conflict. There were many reasons for the emigration including a lack of key employment positions in the sectors they educated themselves in, mainly medicine. They witnessed the sectarianism prevalent in Northern Ireland, as well as experiencing anti-Semitism themselves, and decided to take action to avoid it. Due to their community size, as they got older there were not the local mechanisms for them to uphold their religious practice which meant many left.
What is important to me is when you take an archive and then fictionalise it then you challenge both the storyteller and the new listener. You can ask difficult questions as the story is fictional but because the story is based on a truth, audiences cannot dismiss it. Inevitably working in a space like the synagogue, and with a story taken from a community, has its challenges but the project location and narrative are ripe for creative engagement.
You live in a society in which commemoration and historical anniversaries are very important – and sometimes the trigger for sectarian violence. We are also currently in the midst of a major centenary commemoration of the First World War. It's clear that people can take very different views of whether something should be commemorated, the spirit in which it is commemorated, and even what is being commemorated. How does commemoration figure in the work of Kabosh? Do you think there really is scope for commemoration to play a part in healing and reconciliation in divided societies?
We take inspiration from the idea of commemoration, marking moments in our past, exploring the power of theatre to humanise the past and hold a different lens up to what we think we know. We need to see what unites us, what separates us, ask the difficult questions, not be reverential, give voice to universal emotions such as grief, loss and triumph.
When conceiving a project I ask myself a number of questions – why do it now? When is the best time to do it in order to maximise impact? Is Kabosh best placed to do it – why us? Where is the best location? What voice should we represent? Who is it for? Consequently our work is often inspired by commemoration, marking a moment as it maximises relevance – we seek to offer new ways of engaging with the past to assist us to move forward as a healthy, inclusive society.
I do find the word commemoration difficult however, as it lends itself to celebration, which is not always the emotion that I associate with the event. So I tend to consider our vision as providing a moment of reflection through animating the individual and personal stories within the event, trying to give voice to the commonality, seeking to maximise engagement with the historical moment.
We often feel that we have ownership over different moments in history and commemoration can fuel division as opposed to facilitating a shared truth or at the very least a shared acknowledgement.
Let me give an example. The 31st August 2014 marks the 20th anniversary of the first IRA ceasefire – six weeks later there was a loyalist ceasefire. Both were short-lived but it was the beginning of change for the north of Ireland. I felt it was important as a society to reflect on how far we have come in the last 20 years, particularly given the current fragility of our 'peace'.
There are a lot of positives such as fewer individuals dying on our streets however there are an equal number of negatives that have derived from 'peace'; we have increased racial attacks; as many individuals have taken their own life since the ceasefire as died over the course of the conflict; and we have heightened levels of poverty, alcoholism and domestic abuse. Hence the 1994 ceasefire is not considered a turning point by all of our community. It is a contested historical moment. I felt a play was not the suitable means of expression as we do not have a shared narrative. Yet we needed a moment of reflection. Kabosh decided to commission a 20-minute orchestrated score to be performed by 20 musicians at Belfast city hall at 12 noon on the 1st September 2014. A moment of reflection. We developed a website www.20belfast.com for people to comment on the music, on the 1994 ceasefire and on where we are at now, 20 years later. The music is also the soundscape for an installation in the Victoria Square Shopping centre viewing gallery as part of the Belfast Festival October 2014. This viewing gallery is the only city-centre spot where anyone can see the whole city skyline for free, but is also evocative because the shopping centre is one of our peace dividends that came out of the conflict (a business investment in regenerating our city – whether we agree with it or not). The artistic experience provides a link between the past, the present and the future.
You have just reached your twentieth anniversary as a theatre company. What's next? What does Kabosh have planned for the future?
In 2015 Kabosh is reviving 'Those You Pass on the Street' by Laurence McKeown, an important, provocative play about dealing with the past. We will tour it to community centres for single-identity and cross-community groups that are exploring this sensitive issue.
2016 is the 100th anniversary of the Battle of the Somme and the 100th anniversary of the Proclamation of the Irish Republic at the GPO in Dublin – two key moments in our history that we, as a divided society in the north of Ireland do not have agreement on. What links these two events? The working class being deployed as cannon fodder, the loss of endless young lives, the grief of endless mothers, the victor and loser, oppression and liberation.
I believe the role of the artist should humanise the silent voices, the individual players within these violent events from our past: giving voice to the revolutionaries, the reactionaries, those impacted by the choices of others in order to create a multi-facetted, 3D re-examining of events.
Kabosh plans to mount a series of pop-up plays telling personal stories as part of the year's events as well as staging dialogue between individuals from the same period who never conversed with the aim of exploring commonality.
2016 is also the 20th anniversary of the closure of the last Magdalene Laundry (Mother and baby home) in Ireland and the 50th anniversary of the last closure in England. Through looking at the history of the Magdalene laundries in association with the National University of Galway (NUG), Moonfish (an Irish language theatre company) and DW7,o.p.s. (a Czech company), Kabosh aims to explore this lesser known brutal housing system from our shared past. What can be learnt from this period in our history to assist us in nurturing a proactive society?
Many thanks, Paula, for sharing your experience and reflections here with us.
——————–
On the 9th September, Kabosh performed a reading of Those You Pass on the Street by Laurence McKeown at the 'Culture, Conflict & Post-Conflict' Symposium organised by the AHRC Care for the Future theme and Cultural Value Project. The reading was performed by Maggie Cronin, Vincent Higgins, Paul Kennedy & Carol Moore.
Kabosh will be touring the show in Northern Ireland in Spring 2015.  If you would like a free performance for your community group or organisation, please get in touch here.