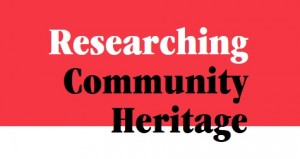 The University of Sheffield's Researching Community Heritage project was funded by the AHRC Connected Communities programme to support community groups and organisations to develop research projects exploring their local heritage. Academics were matched with community researchers and encouraged to work together to develop co-produced projects. Groups applied to the Heritage Lottery Fund for financial support to develop the project, meaning that they retained autonomy and ownership of the projects and were not reliant on the university for funding. Projects included: working with a homeless charity for young people to research the history of the hostel they are based in; exploring links between the Peak District, India and Hindu culture through research into the cotton trade with Sheffield Hindu Samaj; and a project with Rotherham Youth Service working with Primary School children to find out more about the history of their area through creative approaches to history and archaeology.
The project with Rotherham Youth Service was designed by Professor Kate Pahl from the School of Education and Sheffield-based artist, Steve Pool. Together with researchers from the School of English at Sheffield and postgraduate students from the Department of Archaeology, they designed a series of activities which aimed to engage children with the history of coal mining in their area – as well as Rotherham's Roman and Anglo-Saxon past. Children were encouraged to step through a 'portal into the past' and select a period from history to research. The children wrote, filmed and edited short films based on their research as Professor Pahl describes:
"Portals to the Past involved a group of Year 6 children from St Joseph's School in Rawmarsh, Rotherham, re-imagining their pasts and their futures in very different ways. The children learnt research methods that allowed them to explore documents, photographs and objects from the past. They then took creative and transformative journeys by travelling through magical portals into the past. They produced stories about historical Rawmarsh based on their journeys through the portal.
The children heard about the miner Arthur Eaglestone and his book 'From a Pitman's Notebook', written in Rawmarsh in the 1920s. They wrote mining poems and sang a Portal Song with Ray Hearne, song writer and poet. They also did an archaeological dig with postgraduates from the Department of Archaeology and visited Rotherham Archives for expert information on Rawmarsh. They became Vikings with Marcus Hurcombe, youth worker, and imagined Anglo Saxon worlds through runes and maps with researchers from the School of English and worked with artist Steve Pool to create films of better imagined pasts through the portal."
Other researchers have described their contribution to the project and its value for their own research:
I used my field skills to show year sixes how to excavate test pits and shared my knowledge on material culture. I felt I helped the children engage with the artefacts they were finding, and allowed them to see history from a different perspective. I gained experience myself in making archaeology interesting and accessible. – Sara Farey, Archaeology Undergraduate
I am researching the work of Arthur Eaglestone, a local author from Rawmarsh in Rotherham. Using these texts with young people in Rotherham schools allows us to discuss the importance of local history and language to their lives. On occasions like this I have appreciated having my notions of knowledge and expertise challenged and found of great benefit discussing what is of relevance or can empower young people who are, and have been historically, put in a socio-economic and culturally deficit position. It is always a challenge working with community partners because of the need to consolidate the aims of the University with community partners in a way that is relevant and useful to both parties. This challenge is for me the most enjoyable part of working on research projects such as Portals to the Past. – Hugh Escott, English Language PhD Researcher
The successes of small-scale projects, like these, have led to further collaborations with community groups and subsequent research projects. You can find more details on the project website: http://communityheritage.group.shef.ac.uk/projects/
Follow on Twitter: @rch_Sheffield