Past Matters, Research Futures
A Conference for Early Career Researchers
Royal Society, London, 12-13 December 2016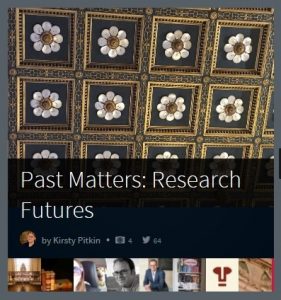 Check out the Storify summary of our Evening panel event: https://storify.com/eventamplifier/past-matters-research-futures
*******
Our evening event for the 'Past Matters, Research Futures' conference will focus on heritage, research collaboration, and early career research paths. Starting at 5:30pm on Monday 12 December we'll host a 'Question Time'-style panel that will be tweeted – so join us for discussion at #PastMatters.
Past Matters, Research Futures – Evening event flyer
Evening event description
 Past Matters, Research Futures will showcase the exciting research conducted by Early Career Researchers (ECRs) related to Care for the Future: Thinking Forward through the Past, one of four strategic research themes supported by the Arts and Humanities Research Council (AHRC). The conference aims to raise the profile of arts and humanities research within affiliated academic institutions and partner (and potential partner) organisations, as well as to highlight the public value of collaboration, both national and international.
On Monday evening at 5:30pm we will hold a 'Question Time'-style panel discussion on current priorities in research and the world of heritage. We're pleased to announce our panellists, who each bring a unique perspective on these issues:
Dr Loyd Grossman (Chairman, Heritage Alliance), moderator
Mrs Ghislaine Glasson Deschaumes (Chef de projet / Head of Project, Labex Les Passés dans le présent / Labex Pasts in the Present, Université Paris Ouest Nanterre La Défense)
Prof Sandra Kemp (Senior Research Fellow, Victoria & Albert Museum and Imperial College London, and Care for the Future award holder)
Mrs Carole Souter (Master of St Cross College, Oxford and former Chief Executive of Heritage Lottery Fund)
Prof Andrew Thompson (Leadership Fellow, AHRC Care for the Future theme and Interim Chief Executive of the Arts & Humanities Research Council) 
Questions will be sourced from the ECR audience. Some issues we seek to discuss are:
Current priorities in heritage and their connections to interdisciplinary historical research in universities
The heritage of the present and of the future
Recognising the importance of science and other disciplines in cultural heritage
Many people will be concerned with the impact that their research is having, or might have, in the next few years. Collaborating with non-academic organisations, museums, galleries, and learned societies can be a key route to achieving impact and, we believe, can offer benefits to all involved. We'll ask speakers for their observations on 'working in partnership', for example:
Personal experience/observations of working between academic and non-academic organisations
Experiences of research conducted outside of the academy, and opportunities for academic researchers
Can effective collaboration drive innovation in the heritage sector?
We'll also ask speakers to reflect on their own 'personal research profile', their routes to their current posts, and any advice they have for the audience. Emphasis will be placed on the processes and particular challenges of early-career research and partnership working as well as outputs, and on activities that encourage the development of a sustainable, interdisciplinary research community that will function successfully as part of the theme's legacy. The conference also aims to foster open and honest conversation in order to better understand the future opportunities and requirements of working in partnership with non-academic organisations.
We wish to build a lasting, sustainable research community and have plans to facilitate this following the conference. There will be opportunities for networking opportunities as well as the chance to discuss and build ideas for research futures.
**************************************
Until 29 NOVEMBER 2016: Register for the Past Matters, Research Futures Conference, an AHRC Care for the Future theme ECR conference taking place 12-13 December 2016 at The Royal Society, London
We are now able to offer places to non-presenting attendees at the 'Past Matters, Research Futures' Care for the Future ECR conference. The conference is an opportunity for Early Career Researchers (ECRs) doing research related to the AHRC Care for the Future theme to showcase their work and engage in wider discussions about themes of Care for the Future, partnership working between academic and non-academic organisations, and the processes and challenges of the 'New Researcher'. While attendees will not be presenting, we hope to encourage an atmosphere of engaged participation at and beyond the event.
Conference attendance is free of charge. Meals during the conference and accommodation for 11th and 12th December for those requiring it will be provided. Bursaries are available for reasonable travel costs and will be reimbursed following the event. Applicants must therefore commit to attending both days of the conference (Monday 12th Dec approximately 9am – 9pm and Tuesday 13th Dec 9 – 4pm).
Please note that numbers are limited and priority will be given to ECRs as defined by the AHRC (within eight years of the award of your PhD/equivalent professional training OR within six years of your first academic appointment). Early Career professionals not based in a higher education institution but with a research remit related to Care for the Future programme themes are also encouraged to apply (see the AHRC Care for the Future webpage for details of research remit). PhD students, particularly those nearing the end of their degree, may also apply.
To apply to register please visit https://goo.gl/forms/sXywXF5Vqjknqb9i2.  Deadline for application is extended to Tuesday 29th November. Your registration is not final until you receive confirmation, which will be sent by 30th November.
Please see below and attached programme for further details and a programme of conference events. For further information please contact Christine and Terah at careforthefuture@exeter.ac.uk or 01392 725073. On Twitter at #PastMatters.
Conference Themes:
Processes and challenges of ECRs
Fact, fiction and cultural representation
Selling the Past – Securing the Future? Commercialisation and commoditisation of the past
Anniversaries and commemorations
Environmental Histories and Sustainable Legacies
Instrumentalising the Past